Hi all, how are doing people
i been having a little problem with a widget, used to work fine, suddenly stopped, don't know what caused this change in behavior, perhaps i edited the HTML but cant remember what i changed if indeed was me.. anyways i created a little widget with an HTML component, linked the component to an external .html file and inside i included a cryptocurrency price widget from cryptonator.com... so far so good, worked like a charm, every time i started my pc i had the recent prices on the desktop, then it stopped,
Xwidget starts no problem, the widget initiates, but the html widget doesn't, F5 changes nothing, i have to manually right click the widget > window > reload and then the widget appears .. its frustrating, cause it used to work every time, i have an other widget that has in it a currency converter (USDollar to "name your currency") and an other one for cryptos (BTC to USdollar), the last one is also from the cryptonator site, the first one loads every time, the second never does unless i reload the widget..
so its a mystery to me and dont know whats going on, is it something i did in the html and didn't noticed? perhaps a change in the cryptonator.com site? why is one widget working and the other doesn't within the same Xwidget widget
Thanks a lot!
Attachment: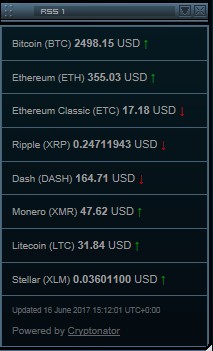 2017-06-16_152637.jpg [ 23.07 KiB | Viewed 213 times ]
Attachment:

aivi_rss_1.xwp [39.46 KiB]
Downloaded 17 times